Be part of our team
Whether you are a student, a graduate or an experienced professional, discover the impact you could make with a career at Springboard.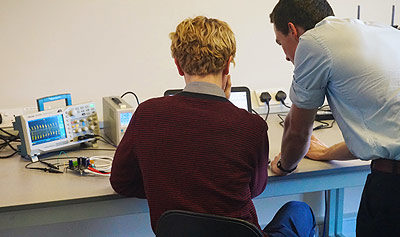 Students and internships
As a summer or year long intern, you'll see what it's like to work at Springboard as you contribute to live technology projects and earn a competative salary.
You will gain invaluable experience by being embedded in a project team that is developing new technologies and solving complex real world problems. Everyone presents their own work to clients and, yes, that includes students. If you're a curious and proactive student considering technical consultancy, then please apply here.
When should I apply?
Summer intern roles are listed on our vacancies page around February. Application for year long internships should be submitted to the Year in Industry Scheme .
Be sure to include your practical experience in your CV.
Where are the interviews?
The interview will take place at Springboard, in Cambridge, and lasts about 2 hours.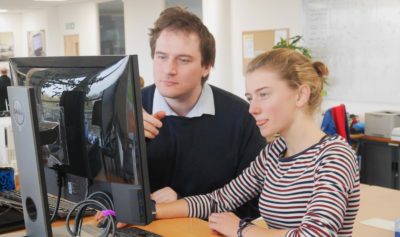 Graduates
As a graduate at Springboard, you'll be a trusted member of a project team developing innovative and commercially viable products that create real world impact for our growing base of multinational clients.
As well as expanding your technical knowledge base, you will present your own work to senior managers responsible for billion dollar businesses. This experience will help develop your client relationship management and commercial awareness. Many graduates develop here so quickly that they are leading projects within a couple of years.
If you're motivated, curious and creative with a bachelor's or master's qualification in engineering, physics, materials, electronics or a closely related discipline, apply for available roles through our vacancies page.
Career progression
At Springboard we provide support and mentoring to guide you in the direction you want your career to progress. There are personal training budgets, and many graduates are leading projects within a couple of years.
When should I apply?
If you think Springboard is for you, then apply now! We recruit graduates throughout much of the year via our vacancies page. The interview process is over ½ a day and will take place at Springboard, in Cambridge. It will explore your technical abilities, motivations, drive, and fit with our business.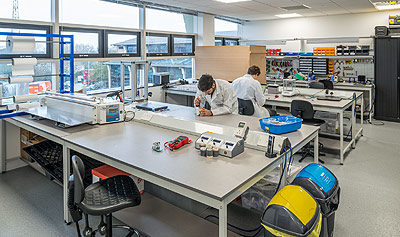 PhD or postdocs
As a PhD or postdoc at Springboard, you'll be placed in a stimulating and intellectually challenging working environment. Fairly quickly you'll be leading project teams and taking responsibility for delivering projects to multinational commercial clients. There are also opportunities for technical specialists.
Career development  opportunities include sales and line management alongside continuing technical project work.
Will I continue to use my academic skills and grow my knowledge base?
You will continue to be a hands on scientist or engineer, applying your skills to real world applications. Leading projects means taking the technical lead, managing the client relationship, leading the internal team, and developing future commercial opportunities.
When should I apply?
Vacancies can appear on our website at any time of year. We can make deferred offers to coincide with the end of your
PhD or postdoc.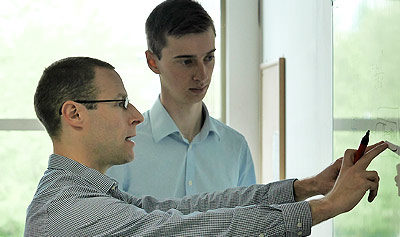 Experienced hires
As an experienced technologist at Springboard, you'll be given unmatched freedom to pursue great ideas with real world impact. You'll harness your energy and expertise and the multidisciplinary capabilities of your peers to build and lead new areas of business for Springboard and our clients.
Springboard isn't hierarchical. You won't have a job title or a department to direct. Instead you will lead in a  collaborative way and you will have the opportunity to transform the ideas that you are interested in into commercial business solutions.
How are management tasks allocated?
There is an opportunity to progress your career in areas which you enjoy. This means areas such as project leadership, line management, business administration opportunities, sales and technical specialist.
How will I add value?
In a rapidly growing company, there is ample opportunity to use your ability to lead projects, your drive to pursue business development opportunities and your unique industry expertise.
Interested to find out more?
Springboard is an excellent place to work with a great team of talented people. We would love to hear from you.