Failure to launch sparks need for an independent design review
4 May 2022
Problem
A well-known pharmaceutical company had recently acquired the intellectual property for a wearable insulin pump but, due to a variety of factors, the device was not ready to market, even after years of development. They asked Springboard to conduct an independent design review to ascertain where the device was falling short of critical requirements for launch.
Solution
Springboard approached the review from two different angles:
Investigating the device from a design perspective, and then
Working with manufacturers to identify the key risks for component manufacture, assembly and process automation.
Within the design scope, we created the following insights:
A Functional Map that identifies the fundamental functions that any such device must perform, irrespective of how the device is implemented.
An Interaction Matrix which maps all the intended and unintended interactions between components so that high risk interactions can be identified.
A Cause-effect Chain that maps all failures to perform critical functions back to their root causes.
We discussed the risks with the client and feedback was incorporated into our analysis.
For the second part of the analysis, we worked with manufacturing experts on tooling and moulding assembly, identified good practice from literature and industry standards, and used calculations and analysis to identify the best way to move the product forward to large-scale manufacturing.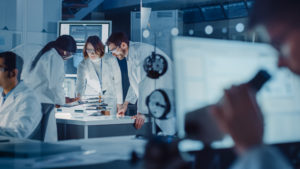 Conclusion
We provided a fresh set of experienced eyes and brains on this project in order to identify and manage risks for our client. Our experience with device design and working with manufacturers put us in a perfect position to offer impartial advice and recommendations.
We were able to identify and rank technical design and manufacturing risks and conducted in-depth technical investigations to establish the seriousness of the top risks.
The progress against key recommendations were monitored by Springboard over the following months to ensure successful resolution and as a result, the product went to market.
Expertise that Springboard offered:
A fresh perspective to a complex project
Risk assessment
End-to-end risk discovery
Contact us today to find out how we can help you with your design needs.