2022 inhalation trends
20 January 2022
Exciting developments are taking place in the design of inhalation devices: from enhanced drug-delivery systems to new, greener life-cycle management. At Springboard we're always at the cutting edge of new technologies in this area, and can share our predictions for the top six inhalation trends to watch for in 2022…
1. Sustainability and greener life-cycle management
November 2021 saw the largest climate change conference of its type to date—COP26—and with it came a wave of eco-awareness that has permeated almost every industry. Medical engineering is no exception, and we're seeing exciting initiatives in sustainability and reusability in the field of inhalation devices.
Over the last half-century, many drug delivery devices have been designed with disposability in mind. Disposability has its advantages:
High-volume manufacture brings efficiencies of scale
Disposable devices can be easier to use
It can be easier to guarantee user safety with a disposable device
But if we look back to some of the first inhalation devices from the late 20th century (Boehringer Ingelheim's Aerohaler, for example, or GlaxoSmithKline's Diskhaler) we find a very different story. Those early devices were reusable, with a loadable primary pack.
Now, in 2022, we are beginning to see a movement "back to the future" in a return to those roots of reusable devices, driven by forces that include:
Increased consumer pressure to reduce environmental footprint
Consumer demand for lower medication cost
The growing tendency to embed electronics into medical devices, which would increase their cost and environmental impact if they were single-use
Boehringer Ingelheim, for example, has recently launched their new reusable Respimat which has a 71% smaller carbon footprint after 6 months of use compared to their disposable version [1] (Figure 1).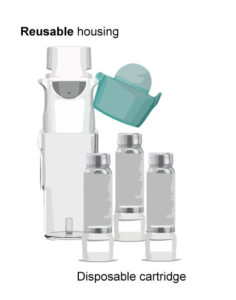 Figure 1: Boehringer Ingelheim reusable Respimat.
In addition to reducing the carbon footprint of individual inhalation devices, medical engineering companies are also increasingly committed to finding carbon-neutral manufacturing solutions and assessing the impact of the devices' full life-cycle. It was fantastic to hear announcements at COP26 that FTSE100 companies including AstraZeneca and GlaxoSmithKline are now committed to eliminate their contribution to climate change by 2050 [2]. This reinforces messaging earlier in the year when both AstraZeneca and Chiesi announced a commitment to develop pressurised metered-dose inhalers (pMDIs) with near-zero global warming potential [3, 4]. Change is afoot!
Springboard has been privileged to make its own contribution to this important global movement by working recently on several projects that aim to reduce the environmental impact of inhalation devices, frequently following methods defined in the ISO 14000 standard on environmental management. Some of the ways we have helped clients in this area include:
Assessing the carbon impact of metered dose inhalers compared with dry powder and soft mist equivalents
Designing inhalation devices that are either reusable or have reusable subassemblies
Working on reducing the embodied energy of the devices we have developed. This could be by using renewable or recycled plastics, reducing the overall mass of the device, or selecting plastics that have different environmental profiles (dependent on their manufacture and global supply chains) to reduce air miles and other carbon emissions
This is a trend that we very much hope to see continued in 2022!
2. Soft mist inhalers
With Spiriva—a common drug for treatment of COPD—beginning to come off-patent across the globe [5], several companies from Merxin to Softhale have designs for generic alternatives in the pipeline, and we should expect other novel soft mist device platforms to follow.
These companies will be looking to capitalise on the established properties that make soft-mist designs so attractive, such as:
The aerosolized and propellant-free drug solutions are expelled in a slow jet, which reduces undesired oropharyngeal deposition
This slower jet velocity makes the sequencing between actuation and then inhalation much easier to perform successfully
The aerosol fine droplet fraction from Respimat, a very successful soft-mist inhaler, is reported to be approximately double that from a chlorofluorocarbon (CFC)-based pMDI. This means that half the dose with a Respimat can achieve the same therapeutic outcome as the full dose administered by a pMDI [6]
There will also be areas in which new competitors will look to improve on the classic Respimat design.
We could expect to see new soft-mist inhaler designs with developments to the drug storage container that will allow it to contain more doses, and potentially deliver ethanol-based formulations such as corticosteroids. New designs will likely also seek to minimise the need for overfilling, thereby reducing costs especially for higher value drugs such as biologics. Speaking of biologics…
3. Biologics and larger molecules
Biologics are another area to watch for in 2022. The continued growth and recent advances in biologics and biosimilars [7] across industries, including parenteral drug delivery, are likely to filter through to inhaled drug design and device development. An example of this is the continued interest in technologies offering non-parenteral insulin delivery solutions.
Additionally, over the last decade there has been a socio-medical trend towards reduced dose frequency to minimise intrusion to patients' lives. In recent years, a focus on delivering larger dose volumes has gone some way towards addressing this unmet need. Of course, reduced dose frequency solutions necessitate a corresponding focus on patient adherence and technology that assists users through reminders and data tracking, so alongside the drive towards these larger doses we will continue to see the trend towards smart inhalation devices.
Inhalation may become the delivery method of choice to address these advancements in 2022 and beyond. Of the inhalation platforms, dry powder inhalers (DPIs) and nasal delivery systems are well suited to large-molecule delivery, so expect exciting growth in this area.
4. Nasal inhalation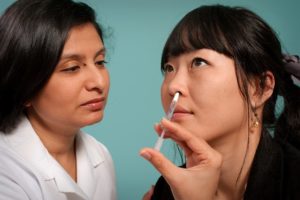 Our final trend to watch for in 2022 is nasal inhalation, which is a delivery method with huge potential. Nasal inhalation systems offer several attractive benefits, all without the use of needles:
Ability to deliver drugs across the blood-brain barrier
Faster absorption than is possible with enteral solutions
Better molecule survival rates than oral delivery forms
Best inhalation delivery method for larger-molecule solutions including biologics
There is active research to develop drugs that can bypass the blood-brain barrier to help treat conditions such as schizophrenia and epilepsy. Nasal inhalation offers a powerful solution, so there has been recent interest in harnessing this delivery system to provide enhanced delivery of established molecules (such as ketamine and cannabinoids) which likely face a faster route to market than novel chemicals.
One particularly pertinent use of nasal inhalation systems is that of vaccination delivery. COVID has led to exponential growth in the global vaccines market, and this can be expected to continue as international cooperative efforts to vaccinate developing countries get underway. Nasal inhalation of vaccines has several key advantages: needle-phobia affects 10% of the UK population [8] and may drive vaccine hesitancy, and nasal vaccines are able to directly instigate mucosal immunity at the site of infection [9].
Finally, advancements in nasal inhalation have exciting implications for biologics research. Successful nasal delivery of peptides has already been demonstrated for the treatment of conditions such as osteoporosis, haemophilia and vitamin B12 deficiency. However, larger molecules continue to present a challenge to nasal inhalation methods due to the limited permeability of the nasal mucosa, and further research will be required to develop a solution.
Trends 5 and 6
It would spoil the suspense to tell you all of the big trends in one web page!
If you would like to find out trends 5 and 6 then please get in touch with Rob Udale.
Final remarks
Here we have outlined four key inhalation trends to watch for 2022. Some perennial themes emerge: the individual patient experience, cost-efficiency, and ease of proper use. There are also, however, themes that are the product of the rapid changes the world has undergone over the last few years—primarily a renewed interest in alternative vaccine delivery methods, and a commitment to sustainability and greener products—that we hope are here to stay.
Inhalation devices are on the cutting edge of drug-delivery advancements, and we're excited to see what their future has in store.
– Rob Udale
References
[1] – https://www.respimat.com/au/reusable/def
[2] – COP26 sees UK businesses lead the world in climate change commitments – GOV.UK (www.gov.uk)
[3] – AstraZeneca's 'Ambition Zero Carbon' strategy to eliminate emissions by 2025 and be carbon negative across the entire value chain by 2030
[4] – https://www.chiesi.com/en/chiesi-group-calls-for-actionoverwords-in-the-fight-against-climate-change/
[5] – SPIRIVA RESPIMAT Market Exclusivity Period (MEP). When will the patents on SPIRIVA RESPIMAT expire, and when will SPIRIVA RESPIMAT go generic? (drugpatentwatch.com)
[6] – Kunkel G, Magnussen H, Bergmann K, et al. Respimat (a new soft mist inhaler) delivering fenoterol plus ipratropium bromide provides equivalent bronchodilation at half the cumulative dose compared with a conventional metered dose inhaler in asthmatic patients. Respiration. 2000;67(3):306–314.
[7] – Biologics Market | Growth, Trends, COVID-19 Impact, and Forecasts (2021 – 2026) (mordorintelligence.com)
[8] – "Injection Phobia". Anxiety UK, accessed Dec 2021
[9] – An X, Martinez-Paniagua M, Rezvan A, Fathi M, Singh S, Biswas S, Pourpak M, Yee C, Liu X, Varadarajan N. Single-dose intranasal vaccination elicits systemic and mucosal immunity against SARS-CoV-2. bioRxiv