Behind the scenes: my first week at Springboard
8 October 2021
Hi, I'm James and I've recently joined Springboard as an Engineering Consultant. I am a graduate of the University of Cambridge, where I specialised in Mechanical Engineering. In this blog, I've written about my first week at Springboard and my thoughts so far. If you're considering working at Springboard, hopefully this post will help you decide if it is right for you.
Day 1
Upon walking through Springboard's doors for the first time, I was warmly greeted by Hamish, my line manager, who organised my induction. We discussed all the important processes that make the company work, and the diverse career options available at Springboard. Hamish explained how at Springboard people can choose to get involved in activities including project leading, sales, marketing and process ownership.
After a bustling lunch where I introduced myself to many of the colleagues in the office, I met my new project team and was introduced to what would be my closest colleagues for my first week. I was given an introductory talk on the project so far. I was also introduced to my role in the project, where I was to use my mechanical engineering background to help design the manufacturing process for our novel medical device.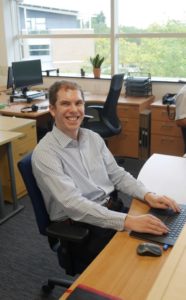 Day 2
My second day at Springboard coincided with the staff quarterly meeting, which provided a valuable introduction to the company and its goals for the future. Tom and Keith, our directors, talked about how the company had almost doubled in personnel in just 18 months, which reinforced Springboard as an exciting place to work. A particular highlight was the free lunch from Deliveroo, a frequent feature at wider company meetings.
Following lunch, it was back to work where I had my first project meeting. It was a chance to meet even more people and introduce myself to the team more widely. As someone who was new to the project, I was able to contribute a fresh perspective into the project and challenge a lot of longstanding ideas – something I know was appreciated.
Day 3
Today was my introduction to the lab where I was shown how to use the wet lab equipment, including the ovens and ventilation chambers. By the afternoon I was excited to already be getting my hands dirty in the lab, using the ovens to conduct some heat tests for our client. I would never have thought I'd have felt so comfortable running my own experiments so soon after starting.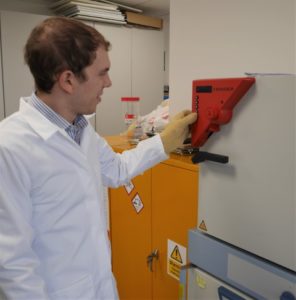 Today was also a Friday, and at Springboard this means Chicken Club for lunch. Chicken Club is a near cult-like tradition at Springboard in which several colleagues gather round for a communal lunch of rotisserie-style chicken or halloumi sandwiches, Nando's sauces, and a choice of ice cream to finish. Truly a perfect way to end the week (just see the photos for proof)!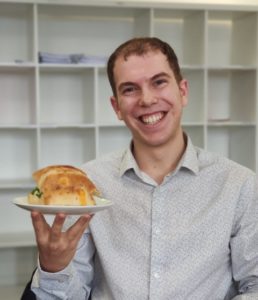 Day 4
The morning started off with a project brainstorm to debate the benefits of countless manufacturing methods. It was challenging to consider what would work for our tiny part, though left me with plenty of ideas to proceed. Despite being new to the project, I was given ample time to voice my concerns and suggestions; no question I had was ignored. It felt like my input was truly valued even amongst a group of experienced engineers. The meeting also provided me with my first task for which I would take full ownership of delivery.
In the afternoon, I returned to the lab to collect results from Day 3's experiments. This required me to use new microscopy tools, but thankfully someone was on hand to lead me through the process. The afternoon culminated in me using the workshop for the first time. Under close supervision, I used the lathe to create a testing rig, which we would then use for manufacturing tests that arose from my morning's brainstorm.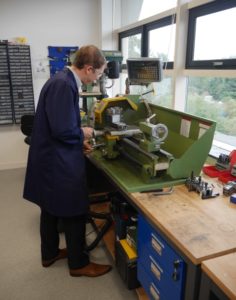 Day 5
After my ritual morning coffee, I was ready for the day's work. My first task involved speaking with service providers for welding services to see if they would be able to make a part to test an idea from the brainstorm. It was really rewarding to be trusted to speak to external providers on behalf of the company, and I learnt a lot about confidentiality and sharing of information.
After lunch it was time to take photos for the Team page on the website – you can see my lovely headshot there. Then it was back to some more manufacturing research before I joined in on my first client call. In this meeting we relayed the progress we had made this week, and relayed our plan for the coming weeks, taking input from the client. I was excited to have had such direct interaction with both clients and suppliers in just my first week.
Final thoughts
A week has passed since I joined the company, and one thing that stands out to me is just how nice the people here are. Everyone welcomed me in straight away, and as a result I've never learnt so many names so quickly! I was surprised at how quickly I got stuck in, contributing to projects with my own thoughts literally from Day 1 – nowhere else would I have thought this was possible, but I think this truly reflects the high-energy and no-nonsense approach Springboard takes. I look forward to seeing what the next few months hold and hope to report back soon. If you think you might want to work with us, take a look at our Careers page.
— James Alexander