Springboard offers medical device expertise to tackle COVID-19
24 March 2020
One of Springboard's three motivations is to help peoples' lives around the world.
The current pandemic of COVID-19 is concerning to everyone in society and is affecting every individual, family and business.
Springboard is in a great position to help medical device and pharmaceutical companies meet the challenges that COVID-19 presents because we have a world-class team of medical device engineers and scientists.  We have specific experience in:
Respiratory humidifiers, anaesthesia machines and ventilators.
Drug delivery devices, including for vaccines.
Antimicrobial filtration and biosensors.
Concept design, materials selection, verification testing, design for manufacture and fast-track problem solving to Medical Device quality standards.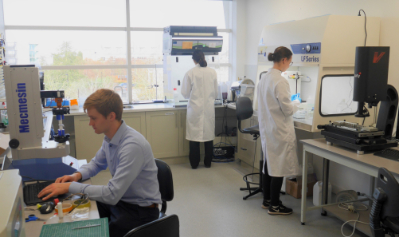 Therefore, we have wasted no time in working out how we can deploy our expertise and experience to help, and we are now offering:
Design reviews and risk assessments of COVID-19 related medical devices and drug delivery devices at no charge.
Answering ad hoc requests for advice on devices relevant to COVID-19 at no charge.
Full lifecycle device development expertise for companies that are developing relevant medical devices, including a willingness to tackle short term projects on a not-for-profit basis.

Submission of our services to the UK Government call for businesses to help make NHS ventilators.
We hope that our offers of help will be taken up and that we can make a meaningful improvement to the COVID-19 situation as soon as possible.
If you would like to know more, please contact Tom Oakley on +44 1223 607 450 or use our contact form.