Lab equipment trends highlighted at the (IBMS) Conference
21 March 2022
Did you meet Arianna, our engineer and Gabriel, Springboard's physicist at the Institute of Biomedical Science (IBMS) Conference in Birmingham last week? If you were not able to go, you may be interested in what lab equipment trends we saw at the conference this year.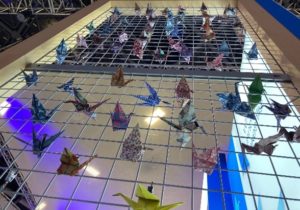 Following two years of the COVID-19 pandemic, there has been increased attention on lab equipment and we are now all familiar with PCR and lateral flow tests. At the conference we saw companies pushing their technologies further in the pre-analytical, analytical, and post-analytical phases of testing. The focus was on:
Automated equipment for typically labour-intensive laboratory testing. Companies hope that testing processes can be made more efficient by no longer requiring scientists to perform repetitive tasks. For example, the automatic fluid handling equipment exhibited by Flow Robotics and Bio Molecular Systems can bring real optimisation to laboratory testing by removing the need for repetitive pipetting.
Traceability of samples with barcode labelling and scanning to trace the sample throughout the testing process. There is a need to improve on sample labelling and recording of results to ensure that the result is reliably linked to the right experiment replicate or patient, as exemplified by the automated equipment for pre-analytics test tube handling on display from A. Menarini Diagnostics.
Remote access to results so that scientists and physicians can work away from the lab, such as in another hospital or at home. For example, Leica showed modular equipment for the processing and imaging of histology samples that can send the images to the physician so he or she can diagnose the patient remotely.
Combining different testing equipment or sample handling steps in one. Such equipment can provide much higher throughput; reduce testing time; reduce risk of sample compromise due to waiting time between steps; and reduce opportunities for human error. We saw good examples of this from Ortho Clinical Diagnostics and Aesku.
Developing such equipment is challenging. The path from identifying a commercial opportunity to a robust product that is ready for launch is never entirely straightforward, especially where new technologies are involved. If you would like to find out how we've helped many clients at different stages on this journey, contact us here.