Exciting trends in life science and lab automation seen at SLAS Europe
12 June 2023
Adam Nightingale and Ethan Miller attended SLAS Europe in Brussels in May and it was fantastic to see the latest exciting new technologies and trends in the life sciences and lab automation industry. Some of the things which particularly stood out to them were:
Novel lab methods will revolutionize drug discovery by offering more efficient and accurate ways to identify and test promising drug candidates and reduce bottlenecks in the discovery phase, whilst recent advancements in organ-on-chip technology and microphysiological system will allow faster, and more reliable, testing. 
3D bioprinting is becoming more accessible. Systems like Readily 3D's Tomolite system, which also won a New Product  Award, are making it possible to create complex 3D structures without compromising cell viability. 
New technologies are bringing automation to full-organism screening. Full organism testing often requires time-consuming manual processes making it harder to achieve the desired higher throughputs. Bionoumous won the SLAS New Product Award for their Eggsorter which combines micro-engineering and AI image recognition to create a cost-effective device for automatically screening, sorting and dispensing small biological entities. These products will free up time and increase throughput, allowing researchers to more high-quality data.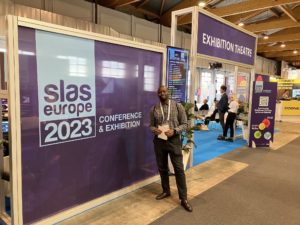 Ethan Miller at SLAS
One of the challenges for the industry will certainly be how to integrate all of these novel systems into the existing research pipeline process, and deal with vast quantity of data they generate, whilst maintaining the quality and reproducibility of results. Springboard has helped clients with strategic challenges just like this, so get in touch if you need help.