Springboard's Lucy Bennett Wins Engineering Award
18 July 2017
Springboard was proud to attend the regional Engineering Development Trust (EDT) awards evening on 3rd July at Arup, London. The awards evening celebrated the successes of Year in Industry (YINI) students throughout the South East region and was an opportunity for STEM professionals across various fields to come together to support up and coming talent in the industry.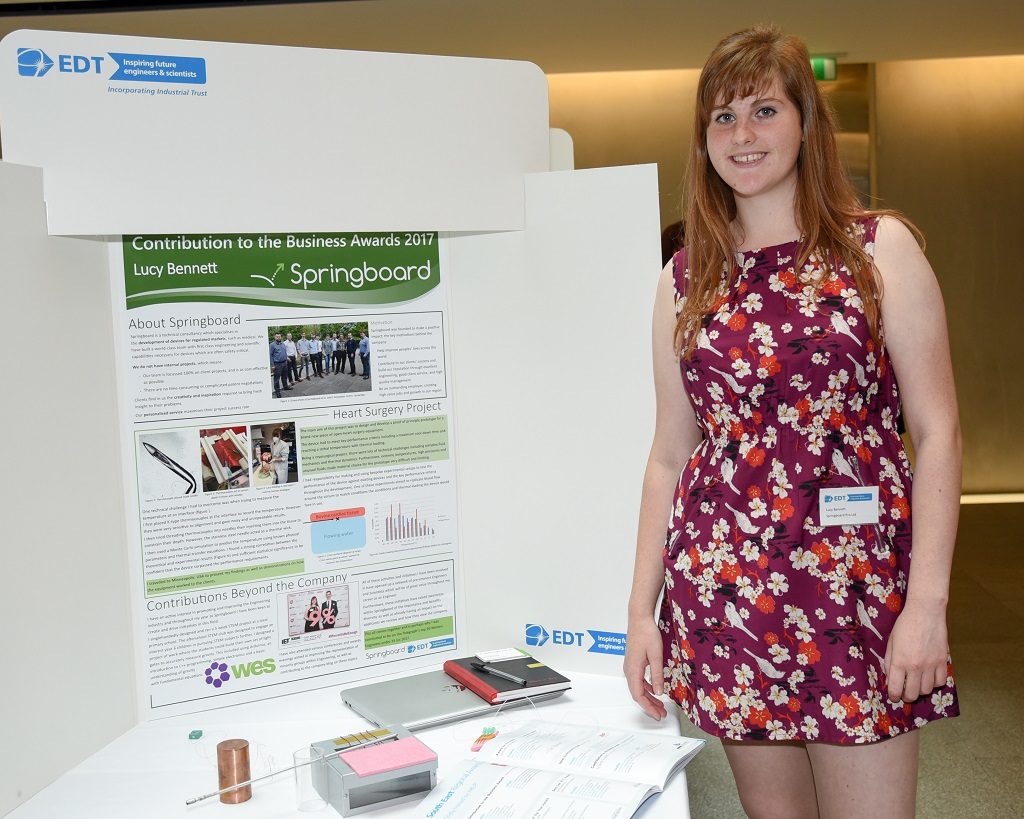 Springboard's own YINI student, Lucy Bennett, was one of 8 finalists who gave a short presentation on the contribution they had made to the company during their year. Lucy discussed many aspects of her year including the diverse role she had fulfilled in working through various stages of projects including writing proposals, weekly presentations to clients and writing sections of reports. Her passion for promoting diversity within Engineering was clear to see through the various initiatives she had driven throughout her year at Springboard; these include being a delegate at WES conferences, attending IET Women in Engineering Awards evenings as well as designing and running a 5-week STEM project at a local primary school. Lucy also demonstrated her considerable technical skill through a case study on a recent heart surgery project where her ability to contribute to projects at a high level was evident.
All eight Year in Industry Students gave phenomenal presentations; their achievements and the contributions they had made to their companies were exceptional by any standard. These ranged from writing a white paper on sustainable transport in Wales, to improving the performance of a weather anemometer by up to 30%. The two students chosen to progress onto the national finals in September were Eloise Knights from Carbon footprint, and Springboard's Lucy Bennett. Both students showed solid technical understanding of their subjects, proficient presentation skills and an undeniable enthusiasm for Engineering.
The audience, of around 150-200 STEM professionals and fellow Year in Industry Students, were asked to submit a vote for the Audience Choice award, sponsored by Bion. Jane High, Director of Bion, announced Lucy Bennett as the winner for the award, and gave a special mention to Springboard for the opportunities they gave Lucy that allowed her to drive the STEM initiatives forwards.
Further awards included the South East Year in Industry Student of the Year which was presented to Evie Raynes for her creative video entry, as well as three highly commend students, Lucy Bennett, Springboard Pro, Ross Brogan, Centrica, and Dierbhile Sharkey, Bion. You can see Lucy's video here.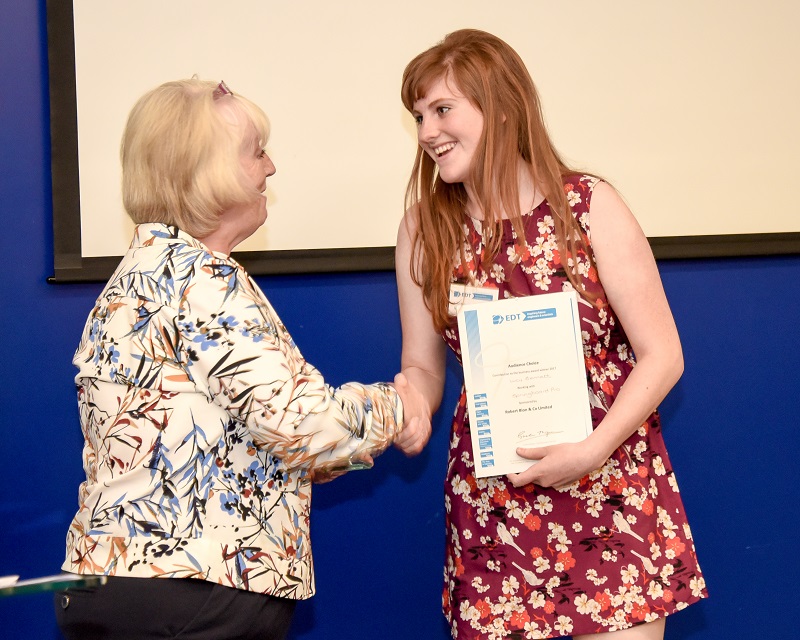 Overall, the event was great opportunity to showcase the up and coming talent in the industry and Springboard looks forward to the next stage at the Future Industry Leaders event in September.
EDT run various STEM initiates for people aged 11-25
The finals of the Future Industry Leaders Awards are free to attend and are held on 6th September at the IET. Register your attendance here
Lucy Bennett has been part of the Year in Industry scheme; to find out more about how taking on a Year in Industry student could benefit your business, or consider participating in the scheme yourself, information can be found here