New medical diagnostic technology showcased at ECCMID 2022
11 May 2022
A few members of the Springboard team attended the European Congress of Clinical Microbiology & Infectious Diseases (ECCMID 2022), where the latest innovations to diagnose and treat infectious diseases are showcased.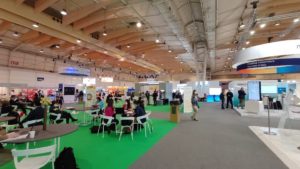 We met companies from all over the world and held interesting conversations regarding how technologies can be pushed further to increase testing throughput, reduce cost and time and improve the quality of information.
This was the first ECCMID conference held in person following the pandemic and it was great to reconnect with industry peers. The diagnostic equipment has been in the spotlight during the pandemic so we were eager to hear about how these companies were able to offer solutions for detecting and treating COVID-19, and also how the technological advances can help in the future, post pandemic.
If you didn't have the opportunity to meet us and would like to talk about your product development, you can get in contact here.