Springboard's year in industry student wins silver at awards!
13 July 2022
Congratulations to one of our current Year in Industry (YINI) students, Deshraam Ganeshamoorthy, for winning second place at the prestigious Contribution to the Business (CTTB) awards that the Engineering Development Trust (EDT) hosts for YINI students across the country.
Here, he reflects on his time at Springboard as part of the EDT programme: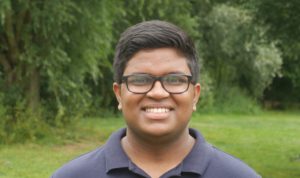 "The YINI scheme isn't a common route to higher education at my school, I first heard about it in a conversation with one of my teachers and I was immediately interested. For me, the opportunity to gain real word experience as an engineer before going into higher education would both allow me to learn many new skills but also give me a better idea of how best to maximise my time at university. Hence, I chose to move to Cambridge and work at Springboard.
"My year has centred around a project to develop an implantable medical device that is used by surgeons. Within this project I have focused on developing the manufacturing processes for this device. This has involved presenting to clients, mechanical design in Solidworks, PCB design using Eagle, writing software in C, and taking a lead role in transferring these manufacturing rigs to a cleanroom environment alongside writing all necessary documentation.
"The CTTB award is an annual competition run by the Engineering Development Trust (EDT) to which YINIs all over the country apply to through an application form and accompanying manager's reference. Following presenting and answering questions on my work to a panel of judges at the regional semi-finals I was invited to present at the national finals last week. With feedback from the previous round, I further polished and practiced my presentation and was successful in winning second place! I'm proud of the work I've done this year and how I've been able to contribute to the project and so I'm very grateful to be recognised for this by the EDT.
"My time at Springboard is soon drawing to a close, but I look forward to putting all the skills I have gained to use as I continue my studies in engineering at the University of Cambridge from October 2022. Beyond university, I am excited by the huge range of opportunities an engineering degree will give me and can't wait to find where my career will take me in the future."
Phoebe Buckley Springboard's HR Manager comments: "We're so pleased that Desh has been recognised for his hard work amongst his peers in the CTTB awards. He has been a real asset to the team, and we wish him well in his chosen degree."
Contact us today to find out more about the YINI placements.