The big talking point at Pharmapack? Sustainability
8 June 2022
Each year Pharmapack is held in Paris, and this year's line-up of presenters and exhibitors didn't disappoint. One of the main recurring themes in our conversations was sustainability surrounding the pharma and medical packaging market.
Several companies spoke of their corporate goals related to sustainability, such as producing fully recyclable packaging in 5 years' time or reaching net zero by 2030.
Tom Oakley, a Director of Springboard, also presented his top strategies for environmental sustainability in the drug development industry, which was well received despite including some controversial ideas! Tom encouraged taking a holistic approach to sustainability and cautioned focusing on small-fry initiatives. If you missed the talk at Pharmapack and are curious, get in touch for a chat with Tom.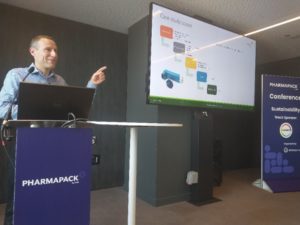 Tom Oakley presenting on strategies for environmental sustainability in the drug development industry.
New devices
On the new devices front, Haselmeier announced a new autoinjector, the PiccoJect, with a novel form factor. It is shorter than Molly and YpsoMate, but slightly wider. This is achieved by bending the plunger rod around a corner, a method previously seen in devices such as easypod, RebiSmart and YpsoDose.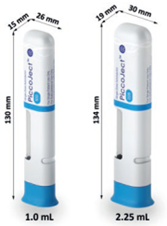 Haselmeier's Piccoject, with a novel form factor
Sanofi's new reusable pen, TouStar for use with concentrated Toujeo insulin, won the 2022 Paramapack award for Eco-design. Designed with a dedicated replaceable cartridge system, TouStar is the first reusable injection pen for a concentrated insulin dose. Toujeo is a three-times concentrated basal insulin, meaning a cartridge of half the size can still hold 50% more insulin.
Biocorp announced Sween, a curious housing to fit over a pen injector to make injections "easier and safer". They also presented Injay, which is a neat way of adding connectivity to a prefilled syringe, along with  their Mallya smart pen injector cap, for which they have recently partnered with both Sanofi and Novo Nordisk.
There was less on show within the pump drug delivery space, but we are aware of lots of exciting developments behind the scenes with some key players in the market. We're looking forward to their updates in the near future, so watch this space!
Adieu Paris!
It was great to catch up with familiar faces and to make some new connections. If we missed you at Pharmapack and you would like to chat, you can get in contact here.