Profile of Thom Wyatt: an engineer at Springboard
19 March 2018
Thom is a Project Engineer working mainly on innovative medical devices at Springboard since 2015.  Thom explains more…
"A project can last many months, but as we develop a product or understand a client's problem it tends to be convenient to break work into 2-3 month phases.
The varied nature of the work makes the job interesting.  Springboard focuses on technically challenging work and has a rigorous ethical policy, so you can always be proud of the work you are doing.
I have worked on many different aspects of devices such as drug delivery devices, and I have worked across the spectrum of product development, such as early-stage concept development, creating proof-of-principle demonstrators, complex root cause investigations, continuous improvement and independent technical reviews.
We work in both the office and the lab.  We might be doing CAD or mathematical models at our computer, but also running labs tests or building prototypes.
There are naturally peaks and troughs in the amount of client work and, because Springboard chooses to have no internal projects, any break in client work is used to learn something new, help on other projects or contribute to other aspects of running the business.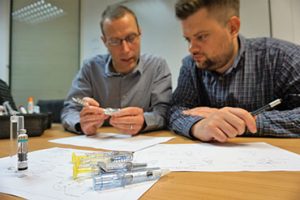 Our clients tend to be large, multinational medical device or pharmaceutical companies, so face-to-face meetings might be in the UK but could equally be in the United States, continental Europe, or elsewhere.  For drug delivery projects, we sometimes work for the device manufacturer or sometimes for the pharma company.
I love the interesting and varied nature of the work. The team are all friendly and welcoming.
One of the best things about Springboard is its flexibility – we manage to combine doing excellent work while actively removing unnecessary hindrances that prevent the job getting done. We are encouraged to be involved in all aspects of the business including sales, marketing and project leadership, as well as being closely consulted on decisions that affect the company and the working environment."
Thom has a MEng in Mechanical Engineering and BSc in Psychology, and worked in energy consultancy for 2 years before joining Springboard.
If you would like to get in touch we would be happy to hear from you.